The 7 rainbow rings of the New Earth Olympic logo represent perfect harmony and balance in accordance with divine design.

Light travels around the Earth at 144,000 minutes of arc, or 6.66 times, per second.

confirming the true meaning of the most famous numbers in the Bible, from the book of Revelation. 666 represents the sun and 144,000 is not a quantity, but a quality, a natural state of enlightenment.

Light (i.e. knowledge) has been demonized as the natural enemy of corrupted and degraded religions.

Archangel Michael

The Celtic Om, representing

the natural synthesis

of East & West

An all-new

Celtic College

for

Rural Arts and Crafts

is opening soon...

12 symbolic gates to the

City of Revelation, the

geometric New Jerusalem

The 1st-place winners of this competition were the leaders

at midday, Sunday August 12th 2012, on the final day of the London Olympics.

The ultimate prizes are world peace and the re-birth of

human civilization as it was always meant to be... =:-)

Please e-mail Madan at

heartwave1746@gmail.com

for any enquiries

Please also see

poem which describes the

underlying ethos of the

New Earth Olympics 2012

Welcome to the

New Earth Olympics!

The New Earth Olympics, founded in the amazing transformational year 2012, is a celebration of divine order finally restored to our planet, timed to run alongside major sporting and cultural events, firstly in London and then wherever else they are happening.

We're inviting everyone to participate in an ongoing Community Broadcasting initiative, beginning with the creation of a unique 24-hour movie, woven together from 144 favourite video clips (1440 minutes = 1 day)

Centuries ago, William Blake envisioned London as the place where the biblically-prophesied City of Revelation would manifest. His extraordinary insight was proven accurate in 1990, with the publication of the first edition of 'Earthstars: The Visionary Landscape' by C.E. Street, now re-released in paperback form as 'London, City of Revelation'. The long awaited marriage of Heaven and Earth, science and religion, Eastern and Western cultures, is due to take place in London in 2012...

"Science without religion is lame.

Religion without science is blind."

Albert Einstein

The 12 websites above were created in 2012 as portals into various creative realms of spiritual experience, currently (in 2014) condensed into this site and www.wizardsofom.com as the primary vehicles for expanding on the themes of Love and Music as the unifying way ahead for humanity.

Calling All Construction Workers (Teachers, Healers, Musicians, Artists, Gardeners, etc,)

Please come and help build a

whole new City of Light

Please click here to see full details of all the video clips entered in each of these 12 categories, which can now be seen on the New Earth

1) CREATION, BIRTH & EVOLUTION

2) COSMOLOGY & SACRED GEOMETRY

3) LOVE STORIES

4) HISTORICAL

5) ECOLOGY & ANIMAL WELFARE

6) MUSIC & ENTERTAINMENT

7) OPTIMUM HEALTH & DIET

8) ALTERNATIVE ENERGY

9) CELEBRATIONS & FESTIVALS

10) COMMUNITY & REVOLUTION

11) PERFECTION IN EDUCATION

12) ASCENSION

"I saw the holy city, New Jerusalem, coming down out of heaven from God, prepared like a bride adorned for her husband."

(Revelation 21:2)
World-renowned pure devotee His Divine Grace Srila Bhaktivedanta Narayan
Maharaja describes the full significance of chanting the sacred syllable OM...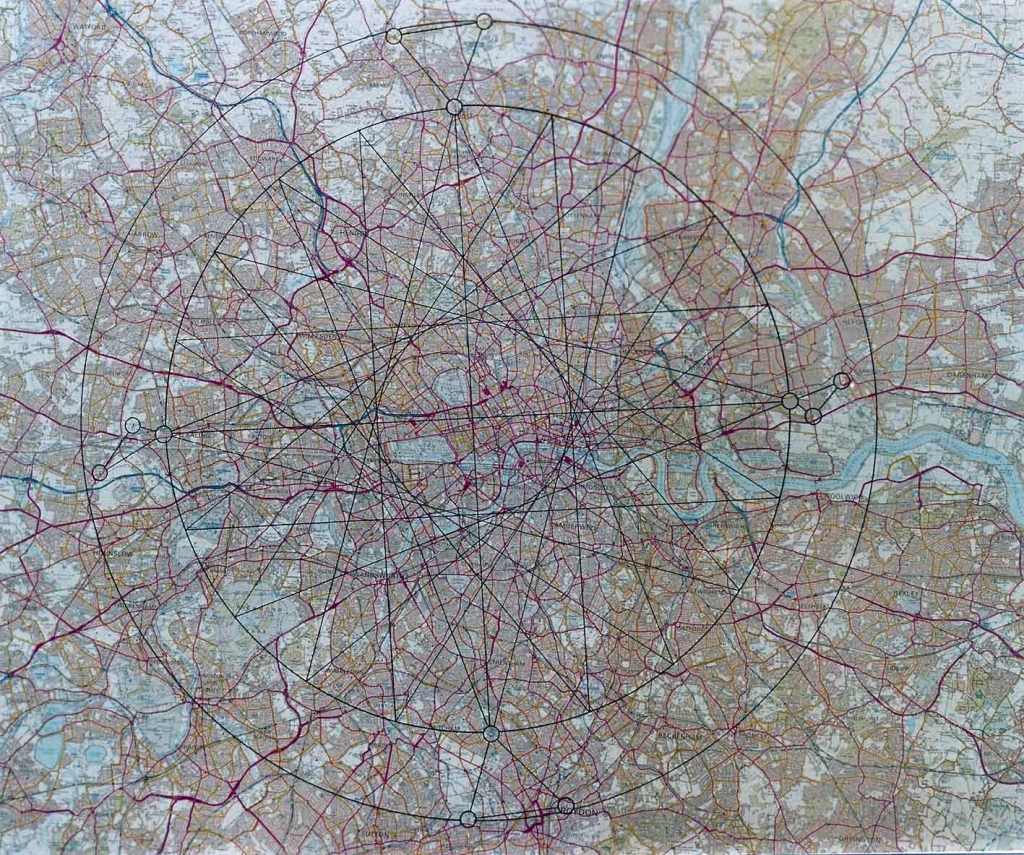 All of London's major churches, sacred sites and places of power are built
at significant intersection points on this 20.625-mile-wide energy mandala.
The 12 'gates' to the City of Revelation are visible here as 4 triangles
situated in the north (Barnet), south (Croydon), east (East Ham)
and west (Hanwell), each connecting 3 churches dedicated to St. Mary.
The 500-acre site of the London Olympic stadium at Stratford is
situated just inside the eastern gate of the 20-pointed London Earthstar.
(map reproduced with the kind permission of Chris Street)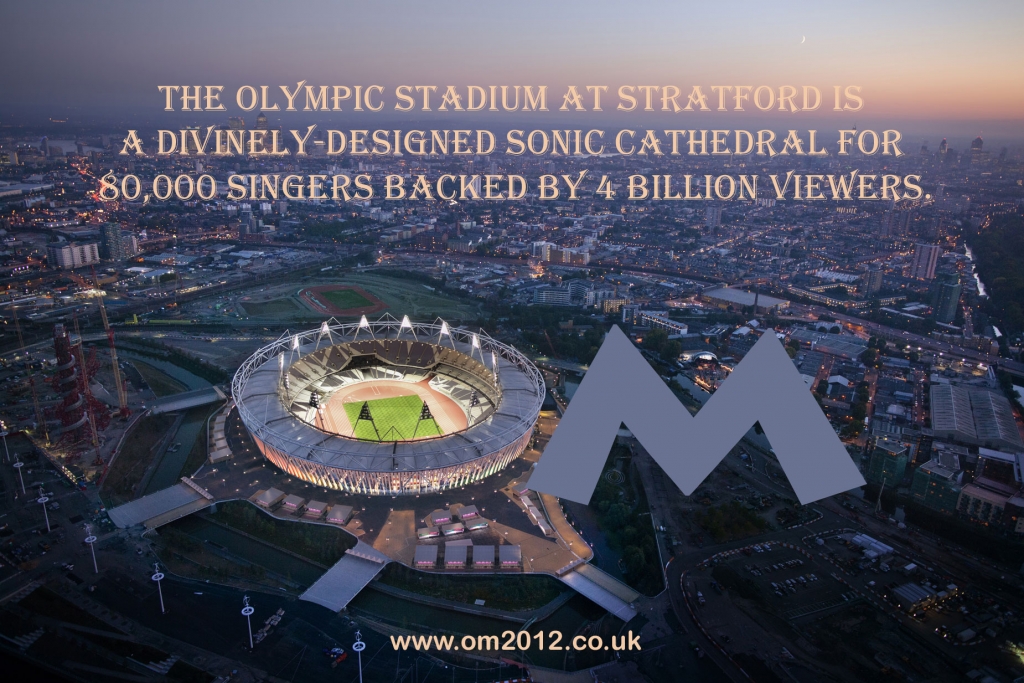 Chanting the sacred syllable OM, the original sound of creation, is a universally
recognised method of bringing peace & harmony to both ourselves and the world.
People across the globe are uniting as one to sing the New Earth into existence:
OM 2012 - The Olympic Musical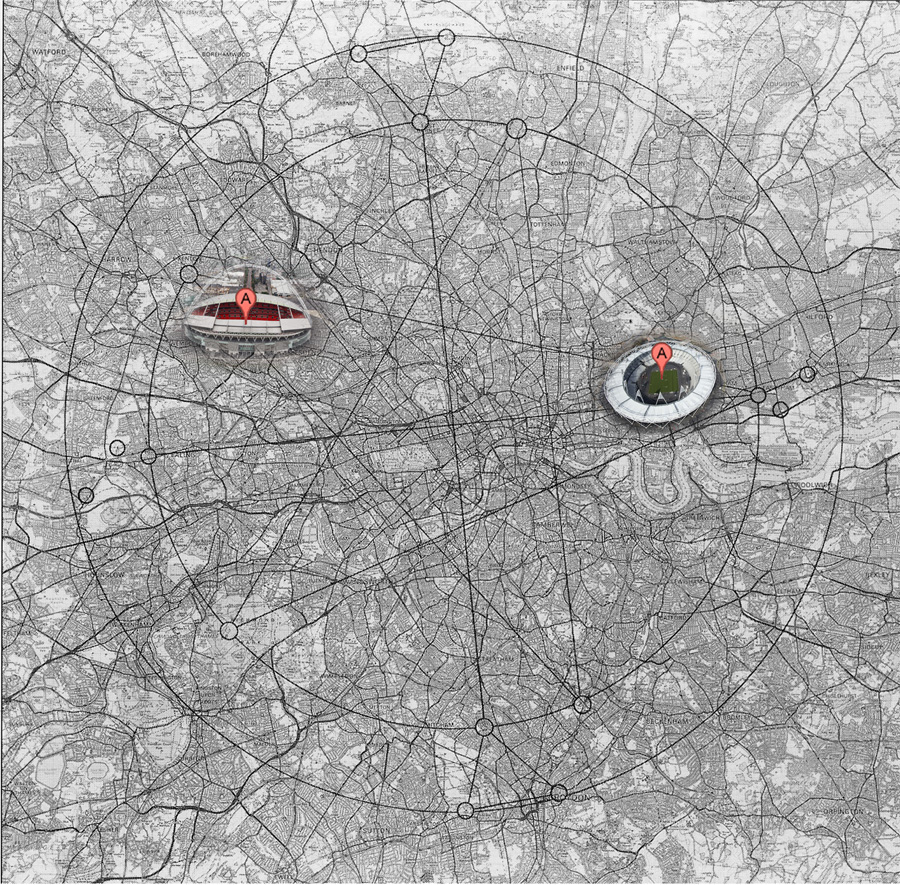 London's two most prominent stadiums, at Wembley and Stratford,
are similarly situated within the multi-layered Earthstar energy
mandala that defines London's sacred geometry.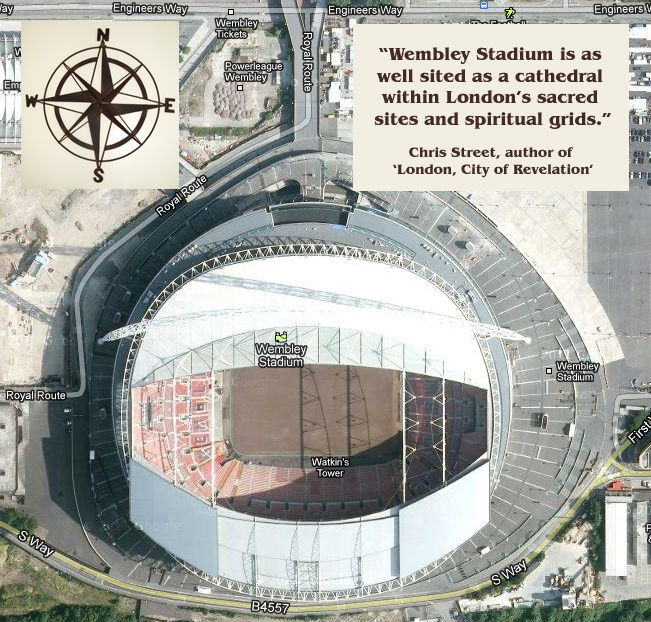 The energy generated by large crowds of people gathering in a spirit of
joyous celebration - especially in places of immense natural power - can have a very powerful effect. Sited on ancient sacred land, and with a global TV audience estimated at 4 to 5 billion (out of a global population of 7 billion), the 2012
London Olympics carries the potential to rapidly transform consciousness
for the better at this most significant turning point in human history.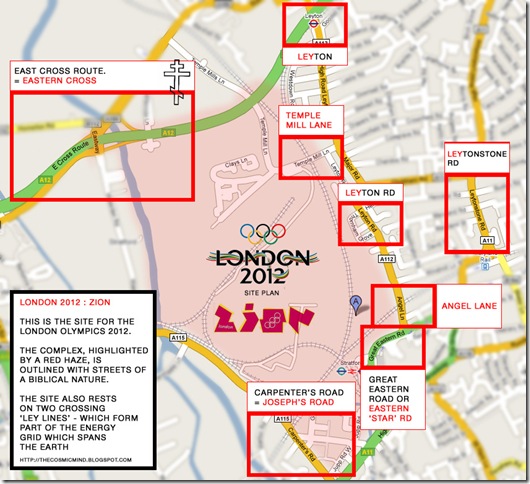 The above map of the 2012 Olympics site indicates some revealing street
names, and has led researchers to discover some previously hidden facts.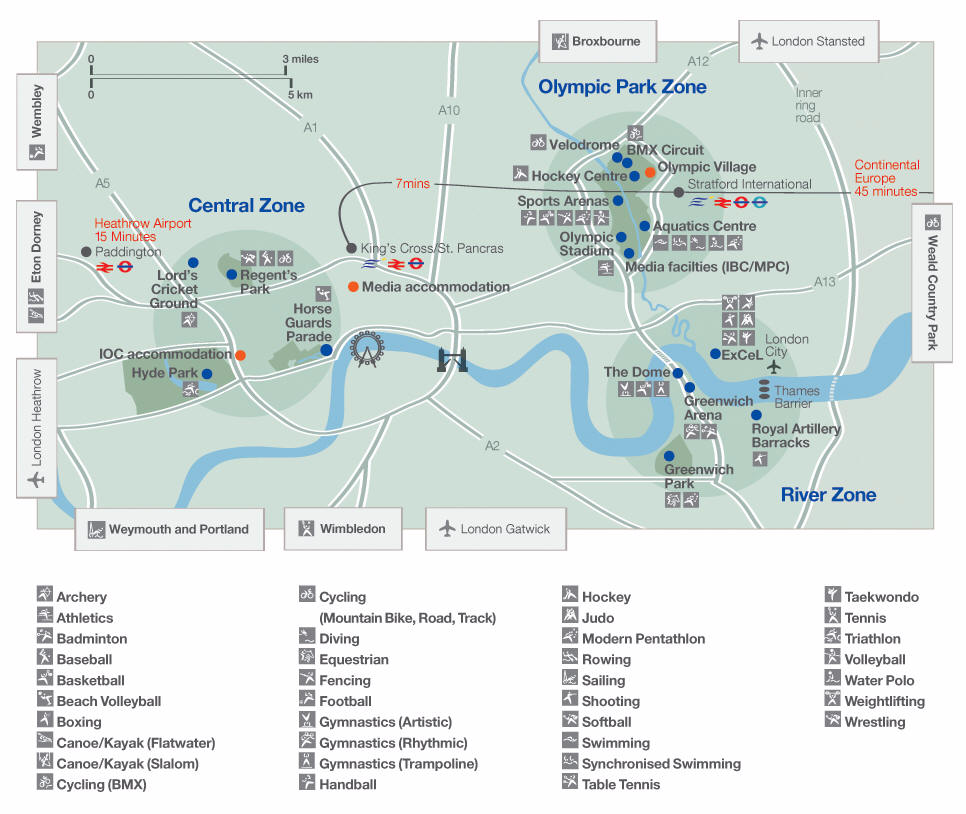 Diana's Legacy - The Death and Rebirth of a Monarchy
( A poem by Madan, published in the Summer 2011 edition of Mind, Body & Spirit,
describing Diana's impact on royalty in the transformational years leading up to 2012 )
Michael:
Is there never to be an end to hostility and war on Earth?
Diana:
If there has to be another war, let it not be against human beings, let it be against ignorance, fear, violence, selfishness, secrecy and greed. Let the leaders of the nations have the courage to put it to their peoples. Let the human race speak,
for the first time in history. Let there be a world Referendum:
"Which is it to be? Endless war - or endless peace?"
Prepare yourselves, gentlemen: there will be a landslide vote for endless peace...
(from 'Heaven calling Earth - Dialogues with Diana')
Please Help Put An End To All Wars (Facebook Campaign)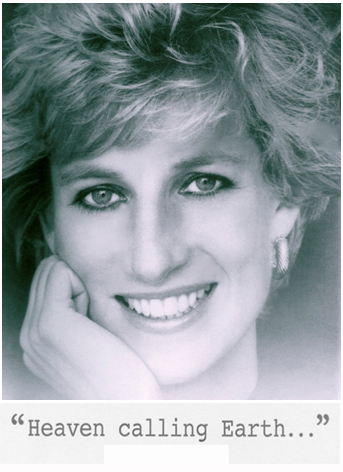 Click here to download your free PDF copy of
Heaven calling Earth - Dialogues with Diana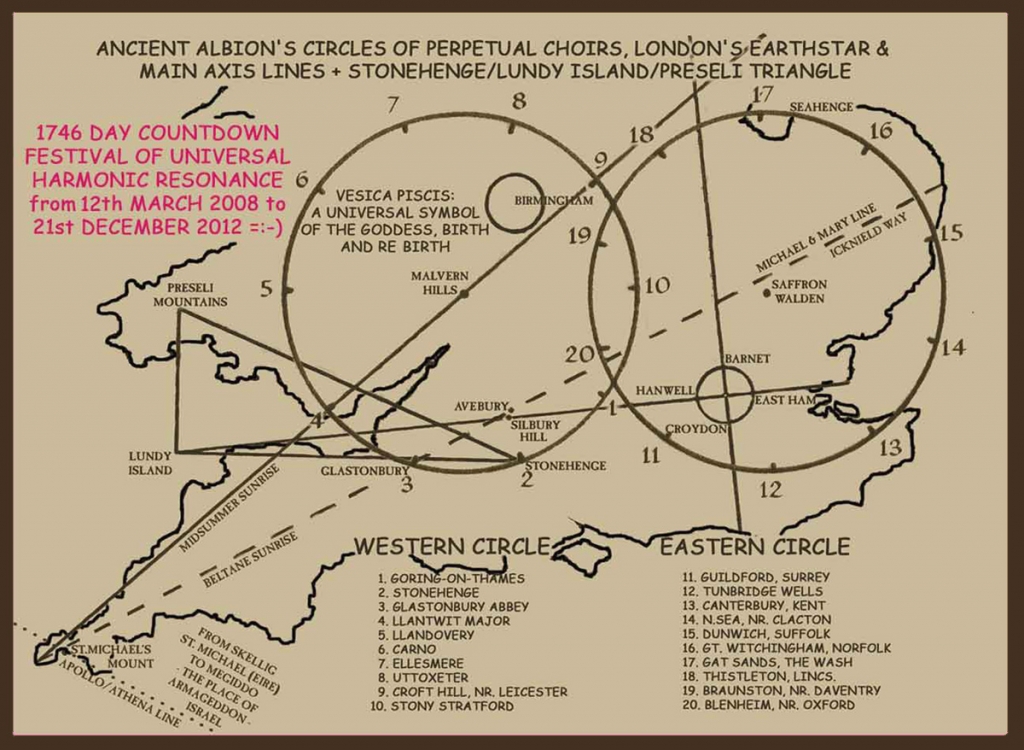 The UK's Circles of Perpetual Choirs and major alignments,
including the Michael & Mary Beltane sunrise line extending from
Land's End, through St. Michael's Mount in Cornwall, Glastonbury -
site of the world's first above-ground Christian church - and Avebury.
The Preseli Triangle is precisely 2500 times the size of the triangle
defined by the diagonal of the Station Stone rectangle at Stonehenge.
The western Circle of Perpetual Choirs is mentioned in the Welsh Triads -
specifically Llantwit Major, Glastonbury, Stonehenge and Goring-on-
Thames - as being a formation of places where choirs of 100 were maintained throughout the day in 24 one-hour shifts, wherein the chant varied according
to the time of day, seasons or festivals, maintaining harmony throughout
the land in the form of a magical, musical en-chant-ment.
Click here to download a free, printer-friendly A4 size copy of the above map.
+ Click here for a 37-page PDF download of Perpetual Choirs info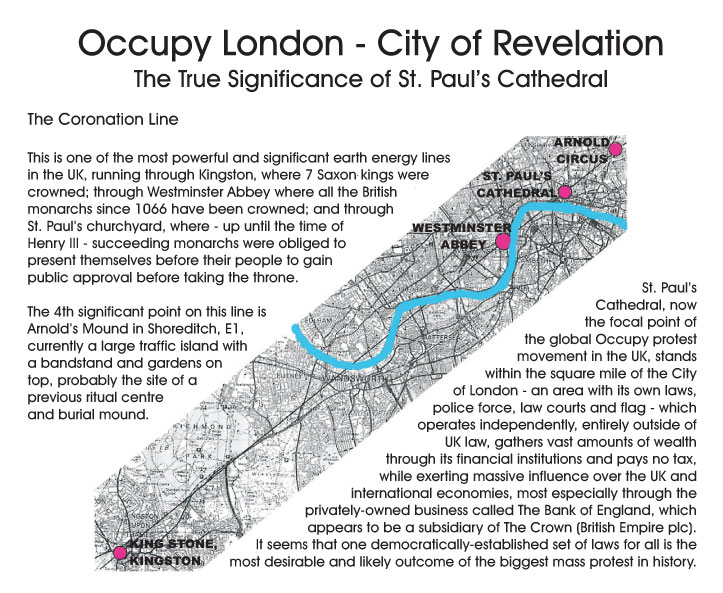 OM 2012 - The Occupy Musical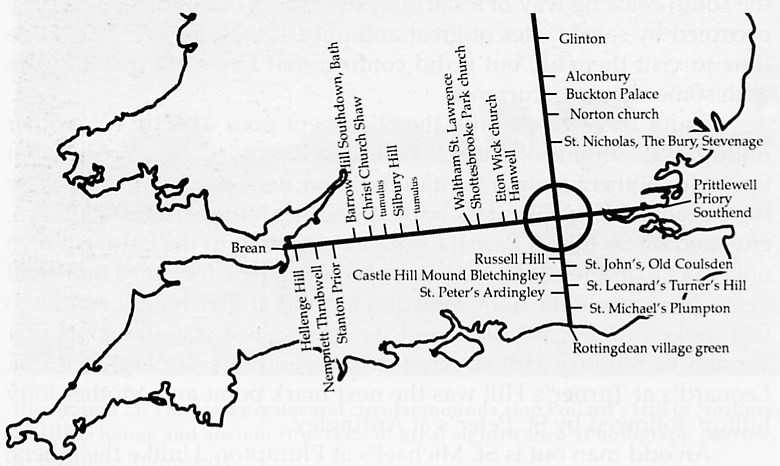 The London Earthstar's extended north-south/east-west axis lines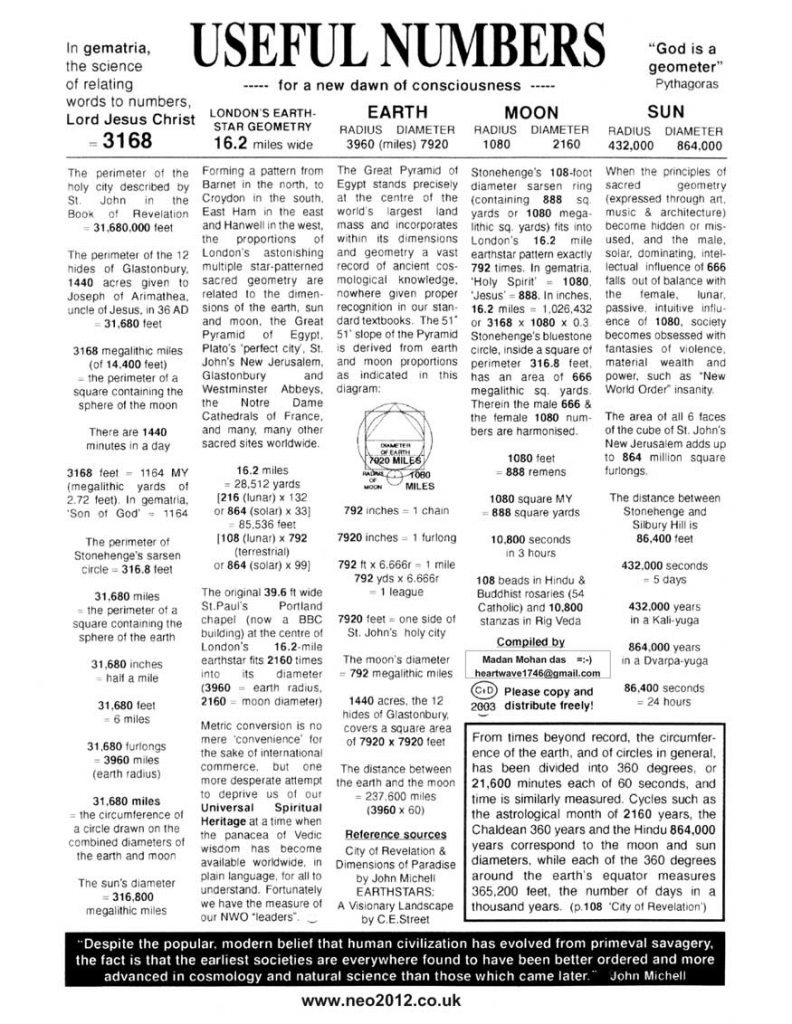 USEFUL NUMBERS - Please click here for a free downloadable A4 copy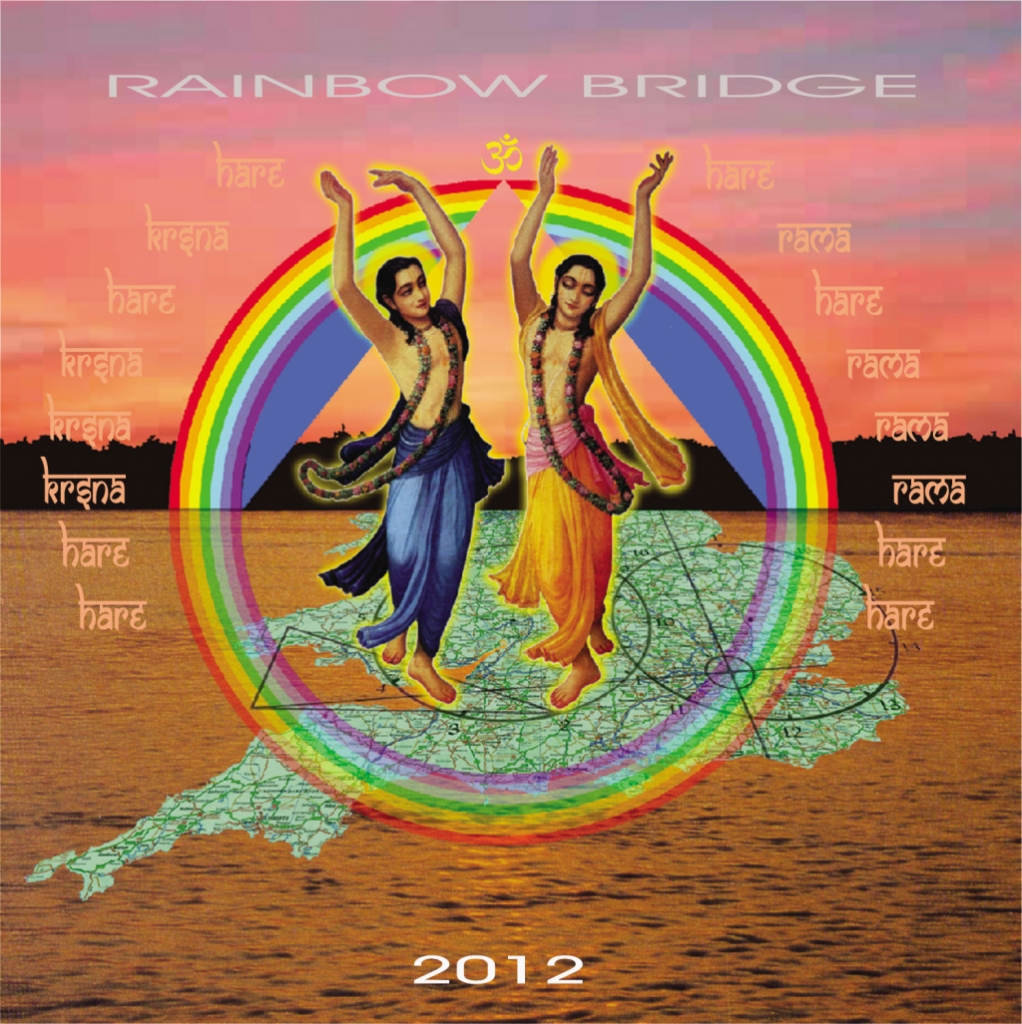 e2 Anthem
- for a new Jerusalem, a new Earth -
(if you don't want to sing it out loud, please click on
'Jerusalem' above to increase the vibe already
pulsating throughout the global grid)
And did those feet in ancient time
walk upon England's mountains green?
And was the holy Lamb of God
on England's pleasant pastures seen?
And did the countenance divine
shine forth upon our clouded hills?
And was Jerusalem builded here
among those dark Satanic Mills?
Bring me my bow of burning gold!
Bring me my arrows of desire!
Bring me my spear! O clouds, unfold!
Bring me my chariot of fire!
I will not cease from mental fight,
nor shall my sword sleep in my hand,
till we have built Jerusalem
in England's green and pleasant Land.
Hare Krishna, Hare Krishna,
Krishna Krishna, Hare Hare
Hare Rama, Hare Rama,
Rama Rama, Hare Hare
William Blake was a life-long mystic who conversed with angels and
other discarnate entities on a daily basis and was confident that he was
"under the direction of messengers from Heaven." He was also The
Chosen Chief of the Druid Order from 1799 until his death in 1827.
Blake had a very clear vision of the importance of London, over 160 years
before the Earthstars discovery, which only came to public attention in
1990 with the publication of Chris Street's first Earthstars book;
"The fields from Islington to Marylebone
to Primrose Hill and St. John's Wood;
were builded over with pillars of gold
and there Jerusalem's pillars stood."
"A mantra is mystical energy encased in a sound structure and each mantra
contains within its vibrations a certain power. But of all mantras, the maha-
mantra (the Hare Krishna mantra) has been prescribed as the easiest and
surest way for attaining God Realization in this present age."
George Harrison (1943-2001), in his autobiography I, me and Mine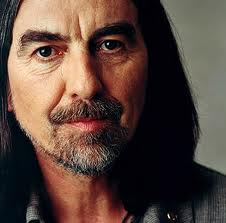 om shrim klim lakshmi narayanabhyam namah
Regular chanting of this mantra will activate prosperity into your life.
The overseeing deity is Goddess Laksmi, originating as the Mother of Creation and life-giver to all nature and to everything within, who also represents wealth and prosperity. According to the historical epic Ramayana, she arose from the primal sea of milk.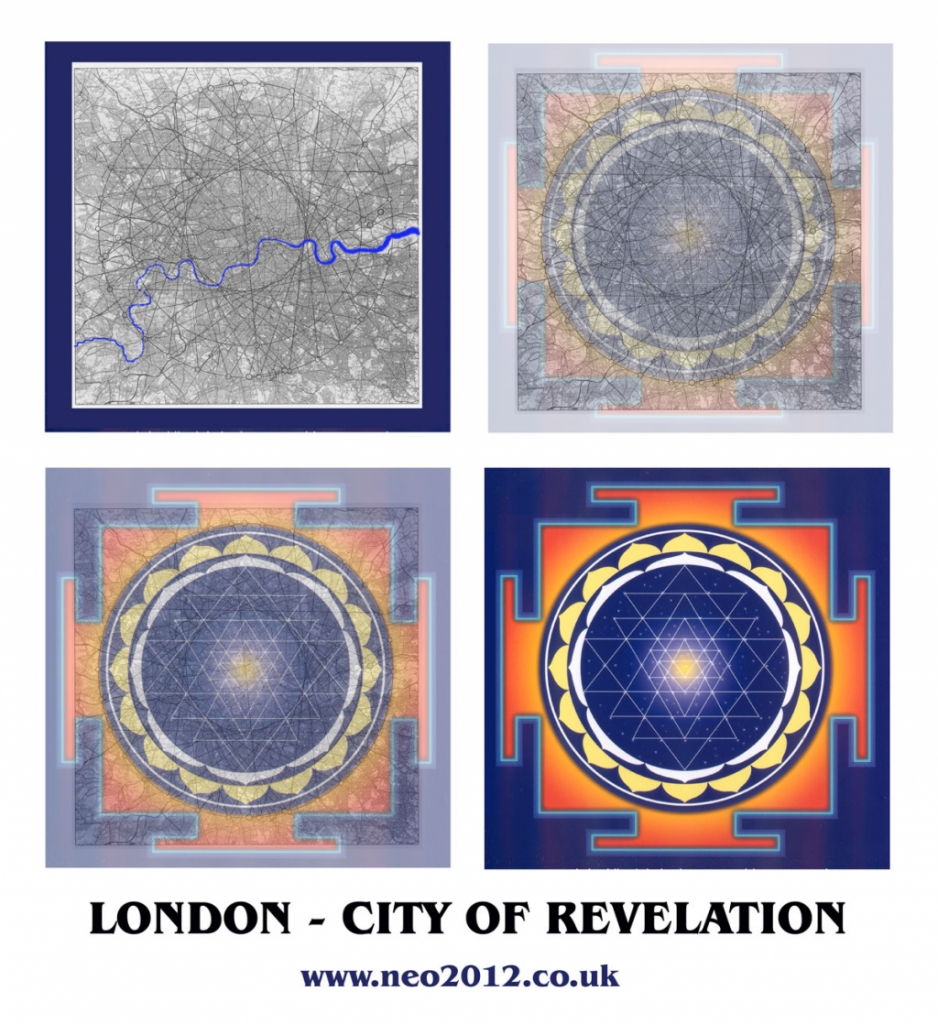 Sri Yantra - The geometric form of the sacred syllable Om, the original sound of creation. A = God, the Creator, U = the Goddess, all of creation, and M = all living beings.
The 21-mile-wide blueprint for London - currently transforming into the biblically-prophesied and long-awaited City of Revelation - is a lotus-patterned energy mandala as old as Mother Earth, destined to be revealed to humanity in 2012, as 4 billion viewers worldwide tune in to the London Olympic stadium
at Stratford, just inside the eastern Earthstar gate.
Divine order is being restored, with perfect timing.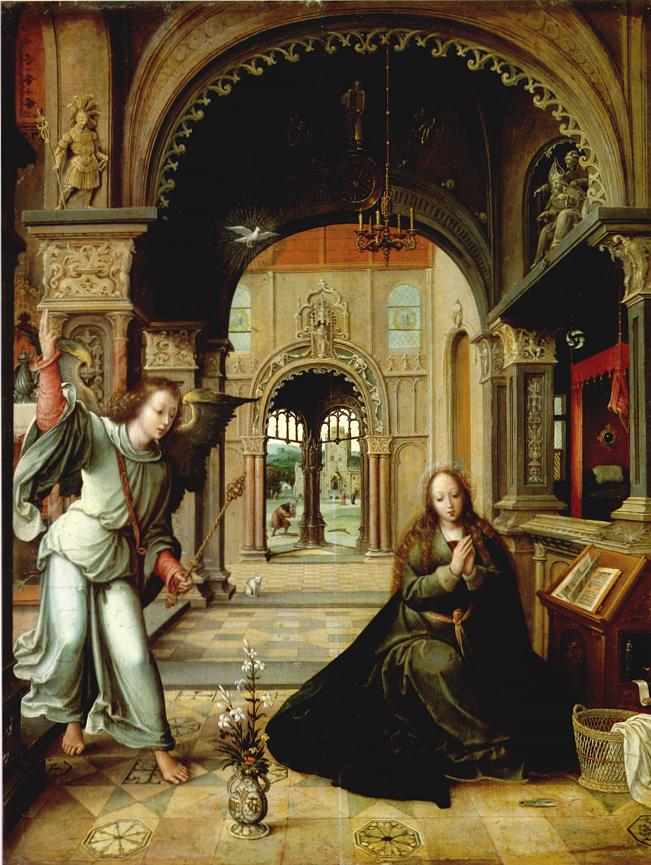 'The Annunciation of the Virgin' - attributed to Bernard van Orley of the
Flemish School - currently displayed at the Fitzwilliam Museum, Cambridge.
Within this extraordinary painting are encoded the entirety of the dimensions,
proportions and geometry of the original church at Glastonbury Abbey,
and thereby also of the long-awaited new Jerusalem, now clearly also
manifest in the lotus-mandala geometry of the London Earthstar: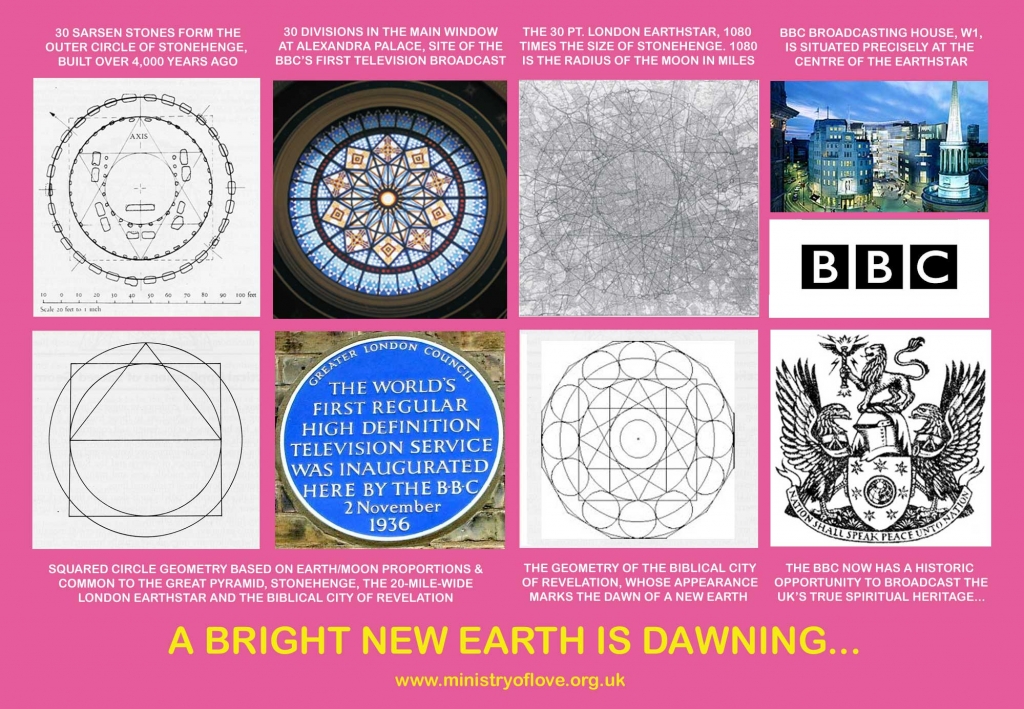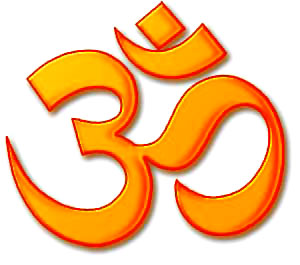 Please chant the universal syllable Om for world peace...
AAAAAAUUUUUMMMMM.....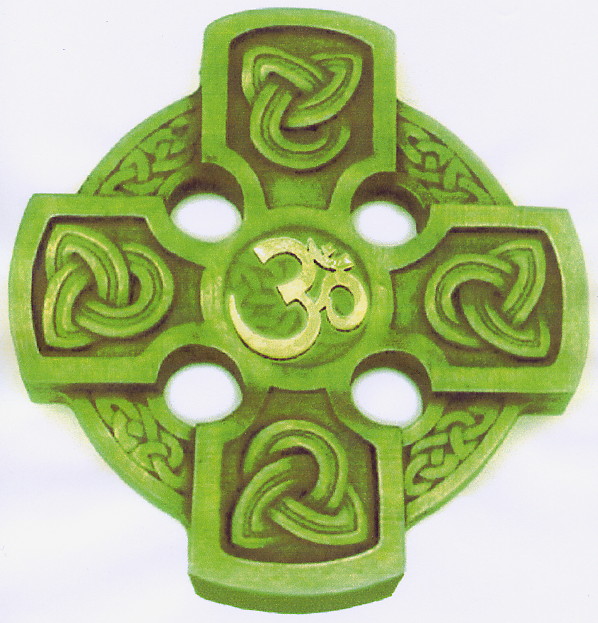 World peace is spreading
at the speed of enlightenment!
Please also visit our new website
at